CHEMISTRY
History
CHEMISTRY as a subject at undergraduate level started from 1966.
Honours classes started from the session 1973-74.
CURRICULAR ASPECTS
The department has Traditional System in second year and third year and CBCS systems in first year at UG.
The courses are updated and modified in UG keeping the need of the society and regional / National needs by the respective University.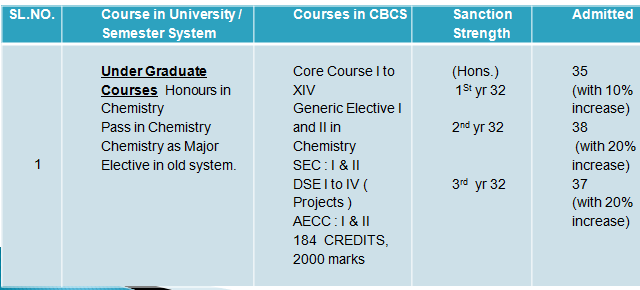 Infrastructure
Department of Chemistry is having the following infrastructure facilities to cater the needs of Chemistry students.
Class Room €" 01
Laboratories €" 01 (U.G)
Staff Room €" 01
Garden €" 01
Store €" 02
Toilet €" 02
Computer System €" 02
Internet Facility €" Wi-Fi
FACILITIES FOR STUDENTS
Class Rooms with proper chairs/ LCD Projectors.
Internet facility for students in the department with Wi-Fi.
UG Library for students (seminar library).
Aqua guard in Laboratories: safe drinking water facility.
Toilets for students in the department.
Reading and Reference facility.
Question Bank in the College/Department.
Weekly Departmental Seminars.
Annual Day Celebration: Cultural Activity.
Annual seminar bulletin and Wall Magazine.
  LABORATORY INFRASTRUCTURE: INSTRUMENTS
   1.Electric Oven
2.Magnetic stirrer
3.Shaking Machine
4.Smart Board
5.Single pan Balance
6.Balance
7.UV spectrophotometer
8. PH Meter
9.Fire Extinguishers
10.LCD Projector
11.Melting Point Appartus
12. Glass Apparatus
Gallery