Physics
History : 
(PASS COURSE): 1966, (HONOURS  COURSE): 1974
CURRICULAR ASPECTS
1.COURSES OFFERED IN THE DEPARTMENT
The department as a part of the college has both old system with year-end examination and semester-end examination & CBCS (system) with internal assessment and semester-end examination. In 2015-16 CBCS has been adopted for the UG level.
Affiliated to Utkal University ———up to admissions of 2014-15.
Affiliated to Rama Devi Women University—-2015-16 onwards.
The course of study are updated and modified for the UG level keeping the need of the society and regional/ national needs by the respective Universities.
3.

ACHIEVEMENT OF THE DEPARTMENT
The following is a note of position /distinction achieved by the students of Physics Department in some previous years i.e. from the session 2011-12 to 2015-16.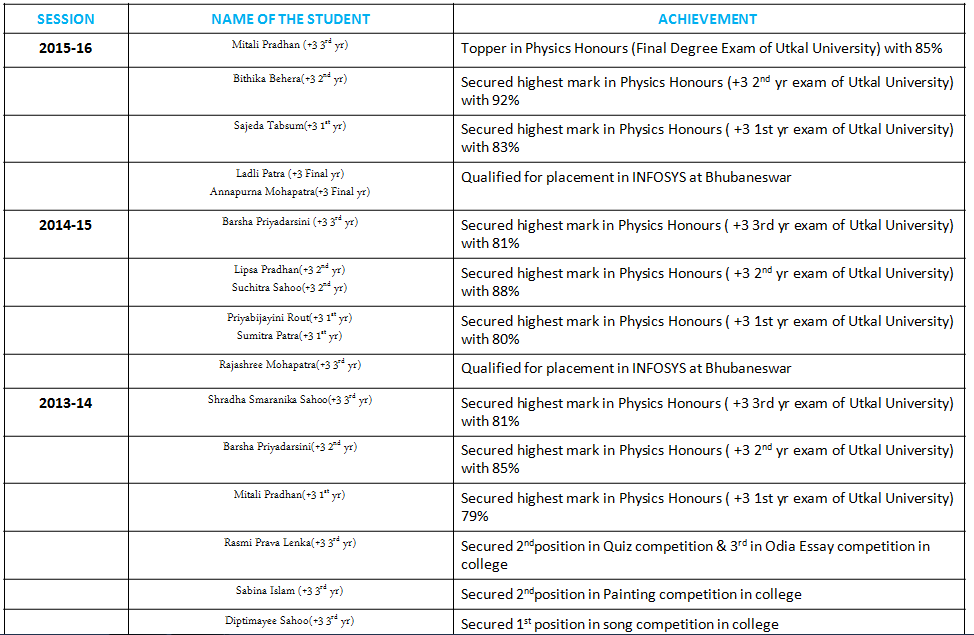 Best Practices
The members of Physics love Greenery. They enrich the gardens adjacent to the Physics Department with greenery.
CLEANNESS, HYGIENE AND SANITATION IN THE DEPARTMENT:
Utmost importance is attached to cleanness, hygiene and sanitation. All the members are specially conscious of these points.
PHOTOGRAPHS OF VARIOUS ACTIVITIES OF THE DEPARTMENT ARE PRESERVED IN THE DEPARTMENT ALBUM