History
— Shailabala women€™s college is one of the premier and pioneer institution of our state which started functioning from the  year 1913.
—The Zoology department was started at under graduate level in 1968 and honours as a subject from 1973.
— This department of the college holds the life to inculcate scientific temper among the science students and converts  methodological  attitude in to life.
Curricular aspects
The department  as a part of the college has  Term End Examination System for UG ( IInd and IIIrd year) Students in each year and CBCS  Pattern has been adopted from the session year 2016-17 (UG Ist year).
The courses are modified and updated in UG keeping in mind the regional /national needs by the  concerned University.
Advance courses have also been incorporated in the syllabus both in Theory and Practicals.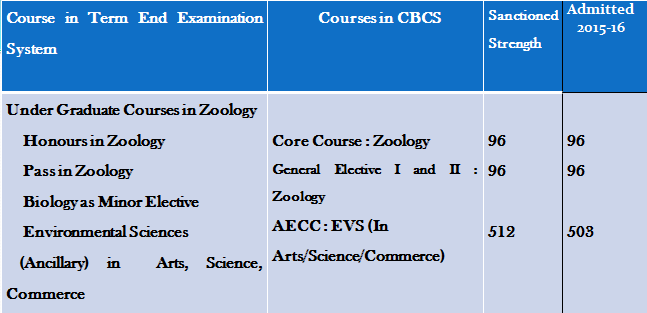 Infrastructure
Department of Zoology is having the following infrastructure facilities to cater  the needs of both general Zoology and Botany (96) students.
—Lecture Halls : 01
—Laboratories : 02
—Staff Room : 01
—Museum : 01
—Store : 01
—Toilet : 01
 Computer system & Internet Facilities: Available
Facilities
—Class Rooms with proper chairs, LCD Projectors /OHP
—Internet facility for students in the department with  Wi-Fi
—Well equipped  laboratories
—Seminar Library for Students for reading and references
—Question  Bank in the Department
— Weekly Departmental  Seminars
—Wall Magazine :  €œGLIMPSE€  is  published in every month to initiate innovation and creativity among students
—Publication of  Seminar Bulletins annually
—Proper Counselling done for Higher Studies
—Annual Day celebration: Cultural Activity
—Aqua guards in Department: Safe drinking water facility
—Toilets for Girls near  the department
Lab infrastructure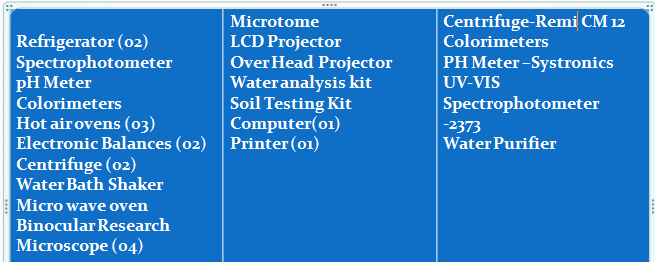 Best practice
—Greenify : Initiative by Zoology department to plant trees
—Cleanliness in the department and Campus :  Creating Awareness  not to  use Polythene  in the Campus
—Aquaguards in  the department for staff and students : Clean Drinking Water
—Deputing students to National Laboratories/Field Tour  for better  exposure.